Link building is not a one-man's job. It requires patience, dedication, accuracy, and speed to ensure that your competitors don't outrank your website on the search engine results pages.
Acquiring high-quality backlinks manually can be difficult. Therefore, you need the right link-building tools in your SEO kit to identify the best backlink opportunities and capitalize on them.
In this guide, we have covered the top 10 link-building tools that you need in 2023 to upgrade your SEO game and maximize your traffic and authority.
So, are you ready?
Let us walk you through what each tool has to offer.
Undoubtedly, Ahrefs is the go-to tool in every SEO professional's tool kit. Yes, you can build backlinks without this, but you would probably miss the opportunity to explore the vast possibilities.
Followed by Google, Ahref crawlers are the second most active web page crawlers. This makes Ahrefs the ideal link-builder tool.
According to our study, around 55% of participants cited Ahrefs as one of their favorite link-building tools, followed by Semrush.
This tool gives you internal linking suggestions. It also provides data about the increase or decline in your number of backlinks and referring domains over time. You can use these insights to optimize your link-building strategy accordingly.
Along with backlinks tracking, Ahrefs offers a useful feature called Content Explorer. It helps you find the best-performing content in your niche and identify high-quality link-building prospects. 
Advantages
Gives a transparent view of a website's backlink profile 

Helps you identify link prospects from a competitor's website

Identifies anchor texts used by linking websites 

Inspects broken links proactively
Limitations 
Backlink outreach is not available 
Starting Price
Lite plan: $99 per month

Standard plan: $199 per month 
The Semrush link-building tool is one of the most powerful and effective link-building tools for SEO experts.
By using this tool, you can accumulate a list of link-building opportunities for your domain. You can also get access to a management interface to run a backlink outreach campaign to acquire new links.
It's an all-in-one SEO tool that enables you to build backlinks, keep track of competitors, and also run and manage blogger outreach campaigns. 
Advantages
Capability to identify bulk link prospects using keyword and competitor data 

Backlink profile tracking to identify lost and found links

Outreach module to send personalized messages to prospects 

Access to contact information of website owners 
Limitations
Complete Semrush sign-up required to access its link-building tool 
Starting Price: $129.95/month [7-day free trial]
The list of SEO link-building tools would be incomplete without mentioning Moz, one of the pioneers in link-building services. Followed by Semrush and Ahrefs, Moz is also a versatile SEO tool powered with impeccable link-building capabilities.
Its Link Explorer tool allows you to track the domain authority (DA) and page authority (PA) of any website in real time. It helps analyze the impact of backlinks on these metrics and eases the effort of sharing the data with stakeholders and clients.
It also provides an overview of dead backlinks and compares your links with those of your competitors. So, are you ready to up your SEO game with Moz's Link Explorer?
Advantages
Provides detailed link statistics for any website 

Gives intel on links lost and found 

Provides link-building opportunities from competitors
Limitations
No capability for blogger outreach
Starting Price
Free to use for 10 domains and URLs each month

Get Unlimited access for $99 per month after a 30-day free trial   
Linkody helps you track and monitor a website's link profile. It provides detailed metrics to identify link-building opportunities. You get updates about all new links, found and broken.
The strength of this tool lies in its capability to provide a detailed analysis of your link profile. Using this tool, you can get an overview of the domains linked, domain authority,  anchor text, and spam score.
It also provides intelligence about the links your competitors are leveraging but you are not. The tool also tracks metrics like Trust Flow, Citation Flow, Alexa Score, and MozRank.
Advantages
Provides a detailed analysis of your link profile

Helps you take action against harmful links

Monitors lost and found links
Limitations
Lack of outreach capability 

Limited feature for identifying new link opportunities
Starting Price:
Webmaster plan: $14.90 per month

Pro plan: $49.90 per month

A 30-day free trial
BuzzStream is a link-building tool that lets you create and manage a link outreach campaign effortlessly. From prospecting to blogger outreach, the tool does it all to make the process effective and simplified.
This is a game-changer tool for all media professionals and marketers. Its Digital PR feature enables you to create a robust list of journalists and bloggers to acquire links.
It's not a traditional link-building tool, yet it is helpful for brands who want to connect with journalists and bloggers for building high-quality backlinks.
It provides a detailed contact database for finding relevant link-building opportunities, displays link prospect data that you can integrate with SEO metrics and provides customizable outreach templates.
Advantages
Robust contact management features to manage link prospects

Premium quality email templates to conduct effective outreach campaigns
Limitations
Limited capabilities for finding links 

Monitoring and tracking for link profiles not provided 
Starting Price: $24 per month
HARO or Help a Reporter is one of the best free link-building tools that help find the right match for PR professionals.
This tool helps you connect with journalists and bloggers who need experts in a specific field to answer their questions and add value to their content. In return, these bloggers or journalists provide backlinks and exposure to the contributor's website.
Sounds like a deal, doesn't it?
The link-building tool helps you build high-quality backlinks by getting mentioned in media articles and publications. It is an ideal tool for websites that want to build links using high-value content.
It can help increase your brand recognition as your responses may be featured in some of the prominent media outlets.
Advantages
Provides high-quality link prospects
Limitations
No tracking and monitoring of the links provided 

Restricted interface for outreach activity
Starting Price:
Free (with limited features)

Standard plan starts at $19 per month
Ubersuggest offers a free Backlink Checker that makes the process of backlinking easy and effective. It helps you analyze the backlink profile of any website. You can also keep an eye on your competitors' link-building strategy and identify missing link opportunities for your website.
The biggest strength of Ubersuggest's Backlink Checker lies in its in-depth backlink overview report. This report gives you a transparent view of any domain's link profile. By searching for a domain, you can view the total number of backlinks, the DA of the website, and the referring domains.
The report also shows a detailed chart of new and lost links. This can help you strategize your link-building campaigns with deeper insights and see better results.
Advantages
An easy way to review backlinks of any website 

A fast approach to identifying competitor's top links
Limitations
Limited filters when searching through links

Doesn't provide outreach features and templates
Starting Price
Freemium model (Upto 3 domain searches a day)

For unlimited search, $29 per month after a 7-day free trial

   
Hunter.io is a comprehensive link-building tool that streamlines the blogger outreach process. This makes it easier for you to engage with potential link prospects.
With the ability to scan and verify email addresses of editors from linking websites, Hunter.io ensures accurate and reliable contact information.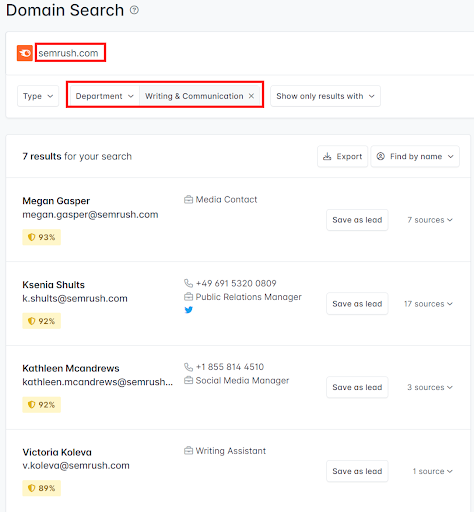 Moreover, the tool simplifies the entire process of scheduling and sending emails to editors from the publications you aim to secure links from. By utilizing its email finder tool, you gain access to email addresses of various points of contact across the web, which you can leverage to discuss link-building opportunities.
Advantages
Locating accurate email addresses for link prospecting

Scheduling and sending outreach emails in bulk

Getting readymade templates for email outreach
Limitations
Can't manage your link profile

Lacks the feature of identifying link opportunities
Starting Price
Free plan (25 email searches and 50 email verification per month)

Paid plans starting at $49 per month
The Backlink Checker & Tracker of Sitechecker works like a helping hand to check and monitor your website's link profile. The data is frequently updated in real time, giving you a chance to stay on top of all changes to your site links.
Using this tool, you can get a view of the total number of your backlinks and referring domains. Along with that, you can get separate data for do-follow links.
It also shows a detailed view of the common anchor texts, your best-performing pages, and their internal links to get a transparent view of your SEO strategy.
Advantages
Gives a detailed view of the backlink profile
Limitations     
Limitations in identifying link prospects 

No tool available for reaching out to link prospects 
Starting Price
$29 per month with a 7-day free trial for new users
This is a link-building tool specialized in managing outreach campaigns and sending emails to link prospects. It comes with a bundled benefit of link-building opportunities and the site owner's contact information to ease the link-building process.
It helps you uncover new links and robust solutions to manage contacts and run outreach campaigns from one platform.
On top of that, there are many templates available to track and monitor the performance of your link-building campaigns. The tool also provides options to help you with resource page link building, expert roundups, guest post link building, and infographic link building.
Advantages 
One platform for identifying and capturing link-building opportunities 

Easy access to contact information of site owners 

Assistance with link-building strategies
Limitations
Starting Price
Flex plan: $389 per month with a 7-day risk-free trial
Are You Ready to Level Up Your Website's Search Performance? 
Link-building tools are just one piece of the entire puzzle. They can only help you identify the right opportunities and make it easier to reach out to prospects who can link back to your site.
You can also use them to track the websites that link to your competitors and then ask them for a link to your resource.
If you need expert help in building high-quality backlinks, hire our specialized link-building services. We'll help you acquire relevant links from top-authority websites in your niche. Get in touch with us now.