Link building is one of the most important aspects of SEO. It helps improve your website's ranking in the SERPs and drive more traffic to your site.
There are many different link-building strategies that you can use, but not all of them are created equal. Some strategies are more effective than others, and some are more time-consuming than others.
Here are the top link-building strategies shared by SEO experts and marketers, as part of a recent survey we conducted:
In this blog post, we will discuss some of them along with other strategies backed by industry experts. Let's dive in!
1. Link-worthy content creation
Creating share-worthy content is a great way to amplify your link-building strategy.
When you create content that is interesting, informative, and relevant to your target audience, people are more likely to share it on social media and link to it on their websites.
This can help you increase your website traffic, improve your search engine rankings, and build relationships with other website editors and publishers.
"Create shareable and link-worthy content, Write guest posts, participate in interviews and podcasts, establish relationships with editors in your niche, and invest in online PR for building backlinks."
– Ricci Masero, B2B Marketer, currently working at Intellek
Here are a few tips for creating share-worthy and link-worthy content:
Make sure your content is of high quality and well-written.

Choose topics that are interesting and relevant to your target audience.

Use formats like infographics and short videos that are easy to consume and share.

Promote your content on social media and other online channels.

Reach out to other websites and bloggers and ask them to link to your content.
For instance, see how the infographic by ConceptDraw (shown below) is getting shares and reshares.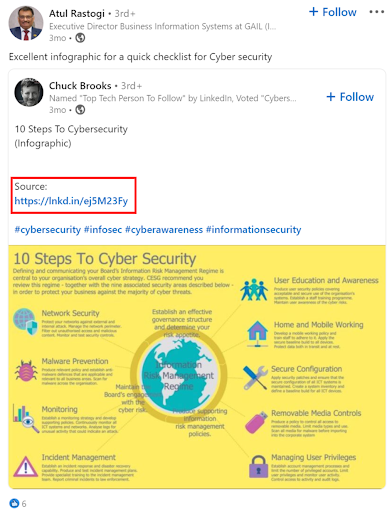 2. Guest blogging
Guest blogging is one of the most effective link-building strategies. It involves writing and publishing articles on other websites in your industry. When you guest blog, you can include a link back to your website in your author bio.
You can also add links to valuable resources on your website within the content of the guest post (wherever relevant).
For example, DebugBear included a link to their tool in their guest post for Search Engine Watch.
They also added a UTM parameter to the URL to track referral traffic driven from this guest post.
If you don't want to write full-length articles for another website, you can also contribute a quote to another website's article.
For such opportunities, you can use a tool like HARO (Help a Reporter) to partner with writers or journalists who are looking for expert quotes for their articles. You can share your insights about their article topic and get a link back to your resource.
"When a journalist poses a question, be sure to answer it directly because it's likely that the question they're asking will be the topic of the article they're writing. Therefore, ensure that your response could fit well in their article rather than going off on tangents that are not directly related to the main topic."
– Drew Sherman, the Vice President of Marketing for RPM
3. Social media marketing
Sharing your content on social media and encouraging others to share it can help build links to your website.
If your content is good, people will share it with their followers, which can help drive traffic to your website and increase your link popularity.
To promote your content on social media, you can use tools like Hootsuite and Buffer. These tools allow you to schedule posts in advance so that you don't have to remember to share them every day.
4. Broken link building
Broken link building is a great way to build backlinks to your website. It involves finding websites that have broken links to other websites and then reaching out to the website owner to suggest that they replace the broken link with a link to a valuable, relevant resource on your website.
There are a few things to keep in mind when using this strategy:
Make sure that the website you are targeting is relevant to your website.

The website should have a good amount of traffic.

The website should have a high

domain rating

and authority.
Once you have found a few websites that meet these criteria, you can reach out to the website owner. Here's an example of an outreach email:
Hi [Website Owner Name],
I hope this email finds you well.
I was recently visiting your website and I noticed that you have a broken link to [Broken Link URL].
I would be happy to replace this broken link with a link to my resource on the topic, [Your Website Page URL Relevant to the Topic].
I believe that this would be a mutually beneficial arrangement, as it would help improve your website's SEO and provide value to your readers. And it would also provide me with a valuable backlink.
Please let me know if you are interested.
Thank you for your time.
Best regards,
[Your Name]
5. Social bookmarking
Social bookmarking is a great way to get your content in front of a large audience. When you submit your content to social bookmarking sites like Digg and Reddit, it will be seen by people who are interested in the topics that you write about.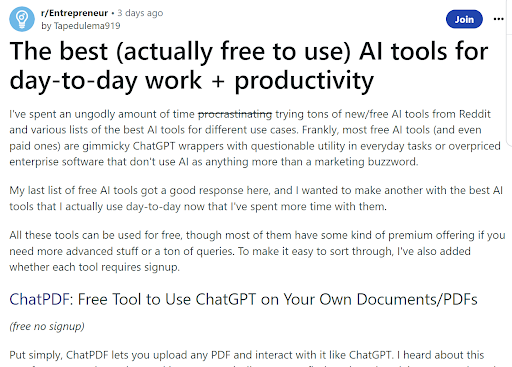 6. Forum and comment posting
Participating in forums and commenting on other websites can help you to build relationships with other website owners and earn links to your website.
To find forums that are relevant to your industry, you can use Google Search. Simply type in the keywords that are related to your industry and add the word "forum" to the search query.
Image via Google Search
Commenting on blog posts is another way to get your name and website in front of a new audience. When you comment on articles published on relevant, niche blogs, you can include a link back to your website in your signature.
7. Press releases publishing
Publishing press releases about your website or company can help to generate links from other websites. You can create press releases about:
Important company announcements

Product launches

New partnerships

Executive hires

Award wins

Industry trends

Company milestones

Customer success stories
"Investing in online PR is expensive but gives you almost guaranteed ROI. There is no secret sauce to building these links yourself. However, is it worth your time? A PR agency has hundreds, if not thousands, of hours, invested in building editor relationships and understanding journalist angles.
You will save money doing it yourself. However, what will you lose in time? And what is the opportunity cost of that time?
This is why when building a brand, investing in online PR is the best move. It's an investment, not an expense."
– Vivek Shankar, the Founder of Black Dot Agency
When writing a B2B press release, it is important to keep the following tips in mind:
Keep it short and to the point.

Use strong, attention-grabbing headlines.

Include quotes from key executives.

Highlight the benefits of your product or service.

Provide contact information for more information.
8. Directory submissions
Submitting your B2B business listings to relevant directories can help increase the number of backlinks to your website.
Directories are often considered to be high-quality websites, and links from high-quality websites are more valuable than links from low-quality websites. Directory listings can also improve your website's visibility and help potential customers find your business.
When choosing directories to target, make sure it is relevant to your business and has a good reputation.
When submitting your website to directories, be sure to include:
Your website's URL

Your business name

Your contact information

A brief description of your business

A list of the products or services that you offer

Any other relevant information about your business

Ready to Build Links to Grow Your Reach and Traffic?
Link building is a complex and time-consuming process, but it can be a very effective way to improve your website's ranking in SERPs.
When building links, it is important to focus on quality over quantity. It is better to have a few high-quality links from reputable websites than a large number of low-quality links.
We've discussed just a few of the many link-building strategies that you can use to improve your website's search rankings and overall online visibility.