Link building is one of the crucial factors that determine how your website ranks on search engine results pages.
How?
Well, a backlink from a reputable website is a vote of confidence from that website to yours. It signals Google and other search engines that your website offers high-quality, relevant content.
Our recent survey proves the effectiveness of this tactic. We found that 65% of SEO professionals cite link building as an effective tactic in boosting their SEO performance.
But building a good link profile is not easy and that's where SaaS link building agencies can help you. Here are our top ten picks:

Marveta offers specialized SEO, link building, content marketing services for SaaS businesses.
Our team of experts helps you find the right backlink opportunities and reach out to publishers to acquire high-quality backlinks. With us, you can get brand mentions from reputable publications.
We use other white hat link building tactics such as guest posting, strategic link insertions, and PR mentions as well. You can also get country-specific backlinks through highly-targeted link building campaigns.
Though our agency was launched just three years back, it has garnered over 100 clients, primarily in the B2B SaaS industry. We have generated over 6K backlinks.
Notable clients: Elementor, Social Status, and Salespanel
2.
Clickstrike
Clickstrike is an agency that caters specifically to B2B tech and SaaS clients. It offers a variety of digital marketing services other than link building. These include SEO, PPC, PR, influencer marketing, and lead generation services.
It started in 2018 and has built strong industry connections. It can get your content published on reputable sites like Forbes, TechCrunch, and Entrepreneur.
It can take care of your entire link building process from finding opportunities to blogger outreach and content creation.
3.
Rock the Rankings
This is another niche SaaS link building agency that caters specifically to B2B SaaS clients. Its expertise lies in SEO and it offers services like SEO content creation and link building.
You can also get SEO consulting services if you just need a little guidance and want to undertake the link building process yourself.
It uses over 20 basic and advanced link building tactics to drive quick results, both in terms of the number of backlinks and an increase in traffic.
It can get you backlinks from top publications like Forbes, USA Today, and Search Engine Journal.
Notable clients: HomeGauge, Hackathon.com, and Lancey
4.
Outreach Monks

Unlike most other agencies on this list, which offer multiple services, Outreach Monks specializes in link building. It offers tailor-made link building services to different types of clients.
You can choose from link insertions, managed link building, SaaS link building, and guest posting services, among others.
Another thing that sets it apart from most SaaS link building agencies is its transparent pricing. You know exactly how many backlinks you'll get from sites with a specific domain authority rating, for the price you pay.
Notable clients: ExpressVPN, Sephora, and MacPaw
5.
Breeeze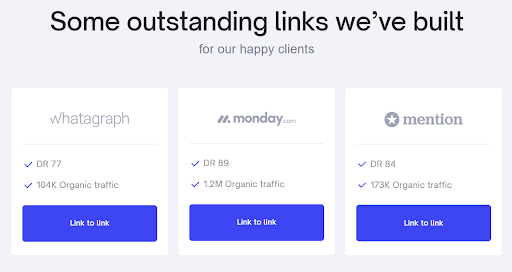 Breeeze specializes in building backlinks for B2B SaaS companies but also offers technical SEO, content writing, and SEO management services. It also offers highly-specific link building services, such as HARO link building.
The team has built a network of partners that they leverage to find the best link building opportunities for their clients. Using this relationship-based approach, they can get you links from reputable sites such as Mention, monday.com, and Asana.
By specifically targeting high-traffic pages on authoritative websites, they're able to deliver great results. This includes high-quality backlinks from websites with a 60+ domain rating.
Notable clients: Inbeat.co and Arielle
6.
Linkflow
Linkflow is a full-service SEO agency that separately offers various link building services. So, you don't have to opt for an entire SEO package. You can also hire them for the specific services you need.
Along with regular link building services, it offers SaaS link building as a standalone service. This is a great option for your B2B SaaS business.
They'll take care of the tedious process of finding relevant websites and reaching out to them to get you the best link opportunities. It claims to offer backlinks from sites with a 50+ domain rating on average and increase your website traffic by over 30%.
Notable clients: LIFEApps, HelpSystems, and Better Buys
7.
Siege Media

Siege Media offers a wide range of services including content marketing, link building, SEO, and copywriting. If you're looking for an agency that doesn't just build links but also creates content for you, this is an excellent choice.
It caters to clients from various industries but specializes in serving SaaS, fintech, and ecommerce businesses.
Given their specialization in content marketing, they focus on organic ways of earning backlinks. This primarily includes guest posting and digital PR.
Some publications where you can get your content published include Fast Company, Business Insider, and TIME.
Notable clients: Airbnb, Intuit, and Zillow
8.
Vazoola

Vazoola is an agency that offers both white hat link building services and link buying.
Its Bounty Express is a service that allows you to determine what kind of links you want and how many. It gives you a flat price per link, so you can quickly get backlinks within a set budget.
It offers content creation services as well. You can use tactics like guest posting for building links without having to create the content yourself.
On average, you can expect links from websites with a domain authority of 42 or above.
Notable clients: RankFuse, Firestarter, and Rocket Pilots
9.
LinksThatRank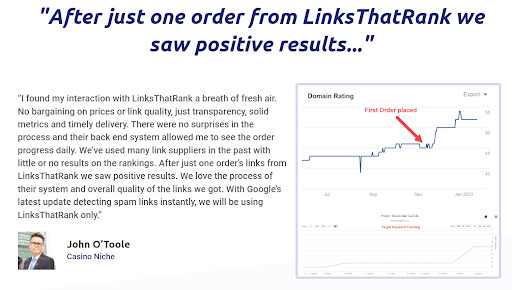 Similar to Vazoola, LinksThatRank also offers you the ability to choose the quantity and quality of backlinks and pay a flat price. So, you can get backlinks from websites with domain ratings as low as 20 or as high as 80, depending on your budget.
You can tell which keywords you want to rank for or which pages you want backlinks for and their team will do the rest. This includes finding relevant websites, writing content, reaching out to publishers, and acquiring the backlink for you.
Though they do not disclose the websites from which you'll get backlinks in advance, they guarantee high-quality backlinks from reputable sites.
10.
Dofollow.io

Dofollow.io is a full-service, premium link building agency that offers high-touch services. You'll get a dedicated account manager, who will understand your requirements and create a tailored strategy for your business.
It caters to B2B SaaS companies from various sectors such as education, tech, marketing, and HR. This means you can expect links from highly-relevant websites in your industry and sector.
This SaaS link building agency claims to provide links from websites with 65+ domain ratings, on average, consistently.
Notable clients: Testimonial Hero, RapidVisas, and Nectar HR
Conclusion
Link building is an ongoing process that requires constant effort. But to get the needle moving, you may need some expert help. This is where SaaS link building agencies come into the picture.
They can get you some high-quality backlinks that bring in relevant traffic and help you build authority in your niche. You can then take things over and continue building on the momentum.
The ten agencies listed here are all good options, catering to different customers and requirements. Take your pick after comparing the services offered and the quality of backlinks each claims to provide.
Start building links to your website. Good luck!
FAQs
What does a link building agency do for SaaS businesses?
A SaaS link building agency helps businesses place, build, and earn backlinks from top publications and websites in their niches. Some agencies provide link placements, while others offer a complete link building package, which includes content creation.
What factors should you consider when picking a SaaS link building agency?
The two most important factors are the kind of link building tactics an agency uses and the average domain rating of websites where your links will be placed.
You must avoid agencies that use black hat tactics or rely heavily on link exchange schemes. 
You also need to consider the scope of services an agency offers and their cost to make a final choice.
How much does an average agency charge for SaaS link building?
This varies greatly, depending on the scope of services offered. Full-service agencies may charge as much as $30,000 per month, while some link placement agencies may charge just $100 per link.
The price also increases as you opt for backlinks from websites with a higher domain rating.